A couple of days too late, but here it is.
1st Quarter
Contenders: Clijsters, Kuzzie and Jankovic, Penetta, Kleybanova
'Upsets' waiting to happen: Jankovic goes down to Peer/Penetta in R16, Kuzzie downed by Szavay R3
Needs to happen: Penetta v Clijsters QF
Good things for: Jankovic. I'll say no more.
(Photo: Harry How/Getty Images)
Dunno why, but despite Kuzzie's presence and Jankovic's assumed underdog status, I'm not the least bit invested in this quarter.
Maybe I'm worried Kimmie will clean up without so much as a peep from the competition.
Then again I've never seen Penetta give anything other than her very best, and emit rose-tinged smilies while doing it.
Jankovic has it all to do.
2nd Quarter
Contenders: Vika, Ivanovic(???), Zvonareva, Stosur and Wickmayer
'Upsets' waiting to happen: Safarova/Oudin down Wickmayer R2/R3, Ivanovic loses her opener
Needs to happen: Zvonareva v Azarenka QF
Good things for: Ana Ivanovic.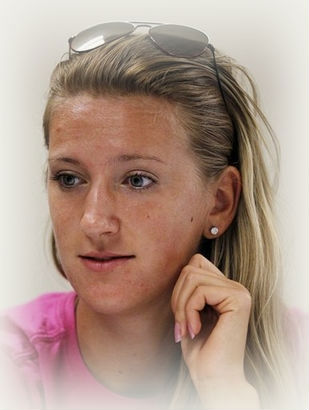 (Photo: AP)
There's certainly plenty of 'belief' present here in the guise of Vika, Bepa and Oudin, for each of whom winning seems a birthright.
Maybe Heinz and Ana can infuse some of that into whatever regime they're following.
But really, I see this one as Vika's for the taking.
Her main malady over the last year has after all, been the presence of the Williamses. Though look out for stiff competition from Bepa – which really could turn out to be the match of the event.
3rd Quarter
Contenders: A-Rad(???), Bartoli, Schiavone, Dementieva, Henin
Upsets waiting to happen: Bartoli downs Henin R4 (As in Wimby 07)
Needs to happen: Demmie v Henin QF
Good things for: Anne Keothavong, at her first tier one back from a teary-eyed, injury blighted 2009
(Photo: Harry How/Getty Images)
For any player not given a bye to round two, this is, for all intents and purposes, a Slam: seven (potential) three setters. In the desert. With opponents like Demmie and a ton of young blood bouncing around on the other side of the net.
Which means Henin's fitness will be a key consideration if she doesn't manage to keep her opening few rounds as short as poss (great start by the way).
Henin or Demmie really should get through this, though look out for Demmie v Franny and Henin v Bartoli, both in R4.
4th Quarter
Contenders: Li Na, Zheng Jie, Shaza, Caz-Woz, Petrova
'Upsets' waiting to happen: Too many - Kirilenko downs Caz-Woz, Bondarenko downs Petrova, Medina-Garrigues downs Li Na and Zheng Jie downs Shaza, all in R3
Needs to happen: Cirstea v Shaza
Good things for: Shaza.
(Photo by Harry How/Getty Images)
Really hope Caz-Woz lives up to her #2 seeding.
I can totally see Shaza making the quarters. Then again I can totally see her returning to service purgatory and crashing out to Zheng Jie or Cirstea.